Allianz Group Certification Authorities
Allianz Group's "PKI landscape" consists strictly speaking of 2 PKI Domains, one derived from the older 2006 born Allianz Group Root CA II the other from its successor Allianz Root CA III set up in 2015.
Both are two-tier domains, i.e. directly under the root comes only one stratum of Sub-CAs designed to issue certificates to end-entities such as users or servers.
For each Root CA the sub-navigation of the correspondent site section (see top navigation) reflects the structure of its PKI domain. Here you'll find detailed information on each CA and its certificate.
The figures below are intended to give an "at a glimpse" overview on Allianz Group Root CA II and Allianz Root CA III PKI domains and on CA Validity Periods.
(Note that no explicit mention is made of Sub-CAs, who - while stemming from our Root CAs - are not operated by Allianz AMOS SE and do not have their stipulated CDPs and Issuer Statements URLs under rootca.allianz.com.)
"Allianz Group Root CA II " PKI Domain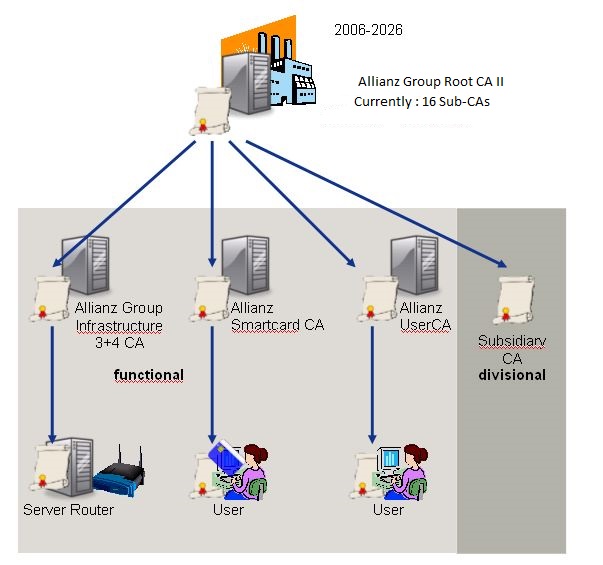 "Allianz Root CA III" PKI Domain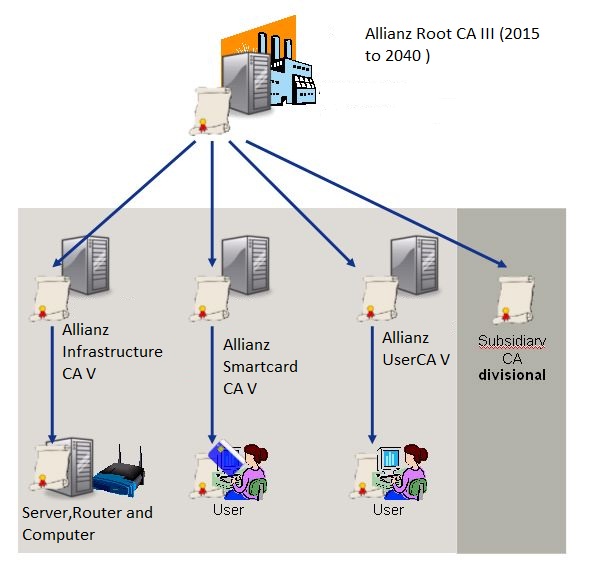 Timeline - CA Validity Periods
---